As Bitcoin and other cryptocurrencies have gained popularity around the world, attention has shifted to the blockchain. Blockchain is gaining traction at a faster rate than ever before, generating a lot of interest in how it may improve company efficiency and transaction security. In this article are listing 5 blockchain technology trends that we think you will be hearing more about this year.
Table of Contents
"Blockchain trends to check out in 2022"
Both large and small firms are considering using blockchain to optimize their operations. As a result of the pandemic, there has been a significant movement to digital platforms, making blockchain increasingly crucial for ensuring safe and transparent transactions. Though the technology is still in its infancy, it has immense promise across the board.
BaaS – Blockchain as a service:
A BaaS business is an organization dedicated to building and managing cloud networks for companies building blockchain applications. BaaS is built on the software as a service (SaaS) concept and allows clients to construct, host, and operate their blockchain apps and related operations on the blockchain using cloud-based solutions.
Customers benefit from BaaS because it allows for faster application development, lower maintenance costs, and quicker adoption or integration of blockchain technology as it is known to have quite a steep learning curve. BaaS augments the accessibility of blockchain technology for businesses and end-users.
Many companies, including Microsoft and Amazon, have already begun to sell blockchain as a service. The websites will be created for entrepreneurs who want to learn how to control blockchain technology and eventually use it as a service – which entails using resources without investing in infrastructure and without having any prior expertise or skills about blockchain technology.
DeFi – Decentralized finance:
Traditional centralized financial systems such as brokerages, exchanges, and banks are being phased out in favor of smart contracts on blockchains to push the decentralized finance (DeFi) alternatives which tend to be more accessible and open to a greater public.
DeFi protocols like Uniswap innovate in many ways, one of which is in defining smart contracts that replace traditional finance processes with automated processes, also adding transparency. An example of innovative research that the Uniswap protocol introduced was also described in an earlier article of us: Making blockchain real: Swapable – Automated liquidity pools.
NFT – Non-fungible tokens:
A non-fungible token (NFT) is a token that uses blockchain technology to produce† a one-of-a-kind – a.k.a. unique – digital asset that can't be duplicated. A new wave of crypto acceptance is currently driven by NFTs as physical material – real-world items – is represented with tokens. These NFTs assign provenance to distinctively recognizable assets by artists, gaming businesses, and content creators.
In 2021, we have seen more NFT platforms that enable tokenization for your PNG, JPEG, or MP4. It will not stop there. In fact, NFTs can apply to many different digitalization processes, e.g. identity verification; when creating certificates for healthcare; or even, distributing operational and management power over digitized properties.
The use of Bitcoin by countries
2021 saw El Salvador become among the first nations to adopt Bitcoin as legal tender, meaning it can be accepted across the country to pay for goods and services, and businesses can use it to pay their employees.

The 5 Biggest Blockchain Trends in 2022, Forbes.com
In 2022, more of such adoption is expected that is driven by global inflation and the worldwide increase in remittance fees. Another trend to watch in the context of countries and government-led research with blockchain includes central bank-issued digital currencies (CBDC) which have the potential to change our economy.
GameFi – Play2Earn
Play2Earn refers to games that implement a new concept in which the platform provides its players with a chance to earn a form of in-game assets – a.k.a collectibles – that can be transferred to the real world as a valuable resource.
This new concept has the potential to give players some value back from the time they spend on gaming. In fact, up until now, gamers would not be able to sell in-game items outside of a game's marketplace – if any is available at all – which also means that trading these items is most complicated and sometimes trades are only possible for other in-game assets, rather than for valuable resources as introduced with Play2Earn.
A tangible example of Play2Earn can be seen with Health2Earn by dHealth Network where the gamers or athletes – as they are called in Strava – can earn DHP by completing daily activities. This showcase illustrates that by completing a healthy activity, athletes can earn otherwise valuable assets that they can further trade with other participants of dHealth Network.
Conclusion
Our team is actively working on some of the above trends as with our Blockchain Consultation, we offer blockchain expertise and deployment advice for future Blockchain-as-a-Service (BaaS) platforms. Moreover, the Health2Earn showcase was implemented by our team and made available to dHealth Network through a so-called Wallet Plugin that anyone can use.
As more businesses are starting to realize the importance of integrating blockchain technology into their workflow and workspace, new technology trends will be popularised. Blockchain technology has already started to change how we do business, and it is sure here to stay. After all, what business doesn't need more efficiency, security, and easier/faster transactions!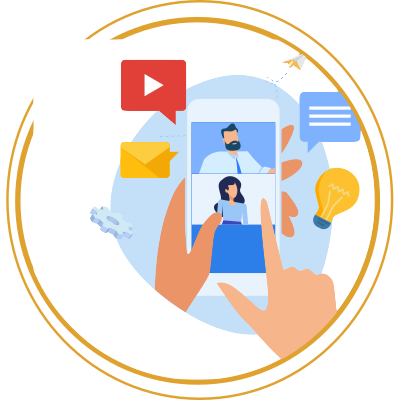 Book a call with a UBC blockchain expert for assistance or guidance on integrating the technology in your business.
We hope that this article was insightful for you and are looking forward to any feedback and messages. Please share your thoughts in the comments section below!
Disclaimer
This website may contain information about financial firms, employees of such firms, and/or their products and services such as real estate, stocks, bonds, and other types of investments. While this website may intend - as the author deem necessary - to provide information on financial matters and investments, such information or references should not be construed or interpreted as investment advice or viewed as an endorsement.