The travel industry has suffered a difficult few years, but blockchain technology may be able to launch it into an overdue renaissance. Thanks to these difficulties, the travel industry has had to adapt. A large area of this is being led by blockchain, such as optimising ticket and baggage management, increasing security, and cutting costs for tourists and accommodation hosts.
Table of contents
Booking solutions for the travel industry
Finding accommodation while travelling can be difficult and many turn to third party booking sites, trading ease for affordability. Large booking sites like Expedia charge commission fees of around 10-30%, which will be taken at expense of the traveller or accommodation provider.
Blockchain platforms like Winding Tree are dedicated to removing this cost entirely by connecting customers directly with the airlines and hoteliers. Their platform currency LIF facilitates bookings and reduces costs for both parties. The platform made its first use cases of blockchain flight transactions with Hahn Air in 2019 and is also in partnership with Air France KLM, Lufthansa and Air Canada.
Webjet is another blockchain booking platform reducing costs for customers by assuring booking accuracy and reducing inconsistencies. Founded in 1998, Webjet launched its blockchain platform in 2019.
All booking entries are recorded on their system in real-time, which immediately addresses all data inconsistencies between parties and informs each participant. This saves customers from double bookings and any costs associated with booking mismanagement.
Smart contracts
Blockchain-based booking agencies like Travala, formerly known as Concierge, also ensure greater security for tourists with smart contracts. Smart contracts can only be fulfilled when all participants satisfy the established prerequisites of the contract. With this, travellers avoid fraudulent transactions and costs at the hands of booking errors.
Accommodation providers are also being empowered by smart contracts. Disputes with guests overpayment or compensation for damages can cause problems, but smart contracts can help to avoid the costs incurred by disruptive guests. For example, if damages are sustained to a room or its inventory, a smart contract will transfer the deposit direct to the host.
Hotel ratings on blockchain
Reviews, good or bad, can mean a lot to a hotel business. One bad review can entirely affect the business a hotel brings in, and through larger booking sites it can be hard to address or even identify cases where users are not verified as previous guests.
Blockchain-based review sites like Review.Network can combat this with the introduction of an immutable review ledger system wherein only verified guests may contribute. Blockchain networks can even go a step further by rewarding reviewers with crypto for helpful, fact-based reviews and deterring exaggeration from disgruntled guests.
Blockchain baggage management
There is also great potential for blockchain solutions in baggage management. Lost luggage cost the global aviation industry $2.5 billion in 2019. Some market research is predicting an expansion in baggage handling solutions in the coming years, and industry leaders are looking to integrate contemporary technologies like the Internet of Things (IoT), robotics and blockchain.
The automation of baggage handling will likely require a blockchain supply chain system to track luggage. Automated blockchain luggage management will ensure the safe arrival of luggage on the correct flight, reducing insurance and recovery costs. Passenger satisfaction will also be improved with reduced check-in times.
How blockchain is creating safer travel
Blockchain can also be used to fill security gaps within baggage management, as airlines seek to automate luggage screenings. Integrated with automation technology, blockchain ledger systems could be used to identify and locate luggage security issues in real-time, better preventing security incidents.
Travel providers are also utilising blockchain technology to identify "known travellers". Accenture has conceived a digital passport for passengers which has been taken on by several airlines including Air France-KLM and Air Canada.
Passengers can inform customs and border offices of their biometric and travel data in advance, saving time pre-flight. The blockchain accumulates traveller data and works with border offices to identify known travellers to prevent any security breaches.
The future of blockchain in the travel industry
The recent turmoil experienced by the travel industry has created obstacles for the integration of blockchain technology. However, this is also why travel could benefit so much from blockchain.
Travel security is a particularly great case for the implementation of blockchain. International travel passes are becoming a greater possibility around the world, and we could see them integrated into the regular travel routine. Digitised identification and automated luggage screening would completely change what travel and airline security look like once properly implemented.
While there has been little opportunity for use cases within baggage handling to date, the projected integration of IoT and automation technology in airlines will inevitably utilise the addition of blockchain within these processes.
Not only will travel security be improved but shorter queues and waits will mean that travel will become more accessible. As travel becomes easier with blockchain, costs will be reduced, and more people will be able to consider it as an option.
Removing intermediaries in booking platforms will also equalise the marker for small accommodation businesses. Reduced booking costs will increase tourism and decentralise the ecosystem, even allowing businesses to expand and compete with chains.
Overall, the use of blockchain technology in travel will create greater accessibility and level the market, and most importantly, make it safer for tourists and airlines.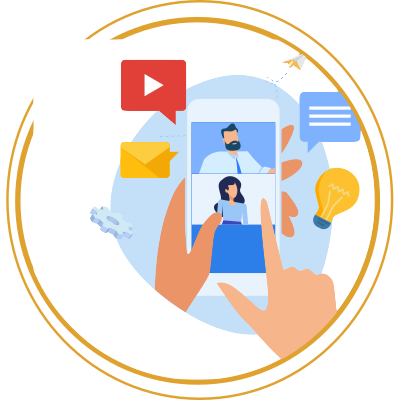 Book a call with a UBC blockchain expert for assistance or guidance on integrating the technology in your business.
We hope that this article was insightful for you and are looking forward to any feedback and messages. Please share your thoughts in the comments section below!
Disclaimer
This website may contain information about financial firms, employees of such firms, and/or their products and services such as real estate, stocks, bonds, and other types of investments. While this website may intend - as the author deem necessary - to provide information on financial matters and investments, such information or references should not be construed or interpreted as investment advice or viewed as an endorsement.