2020 was a year on fire that accelerated the digitalization of business and social sectors across the globe by about 3-5 years. The world is currently undergoing a digital revolution expedited by the struggles that businesses and governments have had to work to overcome during the pandemic. Until 2020, many businesses and governments were only just considering the many possibilities that blockchain technology could mean for the way they operated. The pandemic highlighted shortcomings of operative processes in each sector, making way for blockchain to take its place on the global technological stage.
Table of contents
How blockchain became instrumental during the pandemic
As lockdowns rolled out across the world, many countries looked to solutions to problems created in traditional working models by COVID-19. At the beginning of the pandemic, the medical sector was a central pioneer in implementing blockchain to overcome these obstacles.
One such example of this is Rapid Medical Parts, an American start-up founded over Zoom in March 2020.
Using ledger technology, Rapid Medical Parts provides the parts to convert sleep apnoea machines into ventilators with 3D printers. The use of blockchain technology in their supply chains means that they can deliver much-needed parts to hospitals desperately in need of the equipment in a fraction of the time it would take to send new ventilators.
Some hospitals in the UK are implementing blockchain technology to track vaccine supply. Helping to overcome significant logistical factors when taking into consideration the different storage needs for different vaccines.
Hospitals in Warwick and Stratford-upon-Avon have employed distribution ledger technology to accurately track the security and temperatures of vaccines such as Moderna and Pfizer which both need to be kept at crucially low temperatures. This reduces disposal by medical practitioners unable to verify regulated storage and transporting them in less time with greater efficiency.
The app, Centiva Pass, independently verifies the health status of the user and passes positive statuses onto other users in real-time, and advises them on what actions they must take. The use of a QR code as health certification aims to ease the dependency of blanket restrictions alone as well as wiping out the use of forged paper certifications to limit the spread of COVID.
dHealth's mission is to provide a platform for innovators to develop solutions to modern healthcare problems and decentralize healthcare. The question begs what, if any, are the limits of blockchain solutions within healthcare? The medical sector has suffered COVID's impact, but blockchain offers a key to its revival.
Blockchain's potential in rebuilding the economy
COVID-19 also highlighted shortcomings in the operative practices among businesses and in the retail industry and as a result has been a severe detriment to the global economy. Traditional supply chain processes were almost driven to a complete halt at the beginning of the pandemic due to a new deficit in labor and the closure of whole countries. Distribution was disrupted from manufacturers to retail suppliers forcing companies to scramble to find alternative ways to supply goods.
While old business and retail processes have struggled to tackle these issues during the pandemic, the security, transparency, and time efficiency of blockchain ledger systems has the potential to safeguard the structure of business and retail operations. Blockchain makes it possible to verify each stage of the manufacturing and distributing processes. This ensures that goods arrive at their final destination at a reduced cost.
IBM is already a front-running player in implementing Blockchain's expansive uses in collaboration with J.M. Smucker to follow the journey of their coffee from farmer to store. The 'Thank My Farmer App' allows consumers to follow this journey through QR codes on the packaging.
The acceleration of global digitalization during the pandemic has also forced governments to compete with digitized currencies like Bitcoin, one such prominent example being an addition of an E-Euro by the ECB designed to complement cash.
The future of blockchain (post-pandemic)
While the economy recovers, many larger businesses are looking to experiment with integrating blockchain ledger technologies into their business processes to safeguard against future risks. It has been predicted that the global blockchain market will expand from 3 billion USD in 2020 to 37.9 billion by 2025.
Digital processes are being mobilized among all sectors across the globe at an incendiary pace. This is revolutionizing how local and global societies function from the way we participate in trade, to the management of our health care.
At this stage, many companies are having to hold off on the integration of blockchain technology until they can recover. In the long term though, it is inevitable that blockchain technology will revolutionize societal and economic function on a global scale.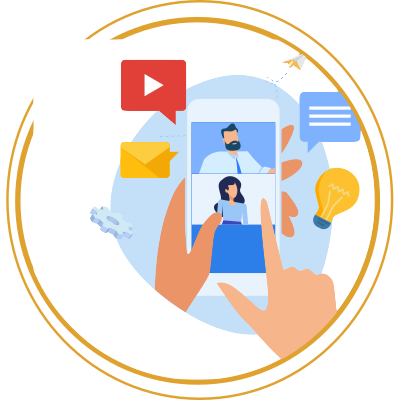 Book a call with a UBC blockchain expert for assistance or guidance on integrating the technology in your business.
We hope that this article was insightful for you and are looking forward to any feedback and messages. Please share your thoughts in the comments section below!
Disclaimer
This website may contain information about financial firms, employees of such firms, and/or their products and services such as real estate, stocks, bonds, and other types of investments. While this website may intend - as the author deem necessary - to provide information on financial matters and investments, such information or references should not be construed or interpreted as investment advice or viewed as an endorsement.