For those of you without any formal Blockchain knowledge, there has never been a better time to get started, and you don't have to wait to become an experienced blockchain practitioner.
Developers who are well versed in Blockchain are a rare breed, and it's a well-known fact that there is an industry shortage of developers with this skill set. That means if you're a developer with Blockchain experience, you can expect to see an abundance of opportunities coming your way.
Here are nine "how to" tips you can follow to become a successful blockchain practitioner.
Table of contents
Tips to drive your own business outcomes
In blockchain, business-led architecture is key to success. Understanding the business outcomes is crucial for delivery and for exploring data flows or building connections between suppliers and customers across an ecosystem.
Business process simplifications should lead your thinking. Blockchains predominantly focus on technology, and therefore less on the business implications or ramifications that may need to occur.
Blockchain as a service
You should spearhead pilots and proofs of concept and collaborate with organizations, consortiums and/or Blockchain as a Service (BaaS) providers.
Collaboration and negotiation skills are crucial during the formation of consortium.
Interoperability: Interconnecting ledgers
Interconnecting ledgers across different technology platforms poses deployment risks, so evangelise an open source mindset.
Integration with enterprise systems is also crucial to reduce latency and drive business outcomes.
Distributed ledger expertise
Not all blockchain frameworks support smart contracts. Build distributed ledger technology expertise to accelerate smart contracts development.
A good starting point will be to read through the book Mastering Bitcoin: Unlocking Digital Cryptocurrencies, Written by Andreas Antonopoulos.
Useful cross-discipline technology skills
Having business and technology experience is not enough. You will also need end to end life cycle experience to design, develop, test, deploy and maintain.
These all have their merits but success lies in using disruptive technologies in unison rather than in a silo fashion.
For more on this check out my previous blog on blockchain.
An experienced blockchain practitioner must possess not only block chain skills — the long, vertical stroke on the "T"-shaped person — but also cross-discipline broad skills — the horizontal part of the "T" — such as Design Thinking, Agile, DevOps and Continuous Delivery.
Get experienced in blockchain / Know your platform
Selecting the right blockchain platform is a key challenge for business today, because the multitude of frameworks often creates confusion.
Deep understanding of various blockchain platforms including Symbol, Ethereum, Waves and The Linux Foundation's Hyperledger Fabric, will enable you to identify the right use case for the right blockchain platform and articulate their differences.
Understand the security model
Security frameworks are still evolving for compliance, legal and regulatory needs.
Security skills such as public and private key cryptography, cryptographic hashing, Merkle trees and merkle proofs and elliptic curve digital signatures are great assets.
Blockchain architecture modelling
Blockchain is not an enterprise resource planning (ERP) replacement technology. Instead, use it to simplify your business process to drive business outcomes. Invest in design thinking methodology to spur innovation.
Partnering with blockchain service providers like IBM can provide the full range of capabilities including IBM Cloud to ensure success in all stages of a new blockchain project.
Learn to explain how a blockchain-based solution is more efficient, secure, and cheaper than any of the available alternatives. Using alternative architecture skills, review the technical designs of your blockchain partners and assist in the selection and planning processes.
Understand standards and communities
Because blockchain is not a database technology, it requires a breadth and depth of capabilities that every successful blockchain practitioner should acquire as skills. To be successful, you should get an understanding of blockchain principles and practices and how they can be applied within your business environment.
Becoming an experienced blockchain practitioner
Blockchain is still a relatively new technology, and implementation requires a new set of skills and capabilities. What capabilities have you used for blockchain skill development? What have I missed? Please join the conversation and let me know what you think.
We hope that these tips to follow to become an experienced blockchain practitioner helps you !
Tell us if you have some feedback about these, the team @ Using Blockchain is looking forward to your messages!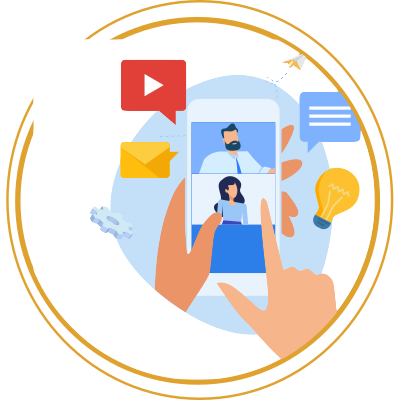 Book a call with a UBC blockchain expert for assistance or guidance on integrating the technology in your business.
We hope that this article was insightful for you and are looking forward to any feedback and messages. Please share your thoughts in the comments section below!
Disclaimer
This website may contain information about financial firms, employees of such firms, and/or their products and services such as real estate, stocks, bonds, and other types of investments. While this website may intend - as the author deem necessary - to provide information on financial matters and investments, such information or references should not be construed or interpreted as investment advice or viewed as an endorsement.