June 10th of 2022, the team at UBC Digital conducted an experiment: UBC Marathon 2022 which would take place on dHealth Network and consists in extensive usage of the dHealth blockchain features during one full day of work.
Table of contents
At dawn of our third year of activity
The experiment started at dawn of our third year at UBC Digital, on June 10th of 2022. In fact, we decided that this day would go down in history as the start of a UBC Marathon that happens fully on-chain and using out-of-the-box dHealth Network features to mimic daily operations digitally.
The first operation in this digital user journey opens the Marathon subscriptions with a funding operation that consists in defining a UBC Marathon Pool – that's right, participants can take a swim afterwards – and sending it dhealth.dhp. Of course, this "pool" refers to pooling funds together in one account, or consolidating funds – rather than the refreshing swimming pool.
Welcoming participants
The three participants of the UBC Marathon 2022 are welcome in transaction EB6820, you will notice here that participants are pseudonymous and thereby, we do not know their personal name or any other personal information.
Anyhow, the three participants are introduced to the screaming crowd, and join our UBC Marathon [1, 2, 3]. In fact, even before the third participant joined, someone had already bought some drinks and paid for it using dhealth.dhp.
As the rules of this marathon are explained and agreed upon by all participants, this digital journey takes more of its digital shape and now requires all participants to agree on decisions made during the marathon.
First sprint
Far differently from the 1904 Tour de France, plagued by scandals of cyclists actually taking trains during official stages of the Tour, we aimed to actually deliver during the UBC Marathon 2022. In fact, we took the decision to deliver on UBC Digital task assignments.
A first sprint during the marathon would then be done and immortalized on-chain by another participant. After this first sprint, the protagonist would need a private break. And also, we observed the first suggestion of time allocation during UBC Marathon 2022.
The participants all agreed to this time allocation of 30 minutes for one of the outstanding work assignments to deliver for UBC Digital. It is here that it gets more complex – or funny, depending on your perspective.
Brain energy
With this digital journey taking shape – it became clear that we need to define tokenomics around the brain energy [token creation event] that is being consumed; we define a custom token which is used to complete work assignments during the marathon. Also, we define that this showcase marathon would consist of 3 digital identities: 
Token lifecycle
The team sends an amount of brain energy to the brain, so that the brain gets smarter.Every year, the ecosystem sends brain energy to the team to complete a year of work.
The story is quite simple isn't it? Initially, the team created a total of 9'000'000'000'000'000 brain energy tokens – or 9 quadrillions. Why? Because this showcase marathon shall never end and thereby we went for the following mathematical wizardries (well, the brain did, of course):
480 minutes = 100.000000 brain energy (1 workday)
1 minute = 0.208333 brain energy
115200 minutes = 23999.961600 brain energy (1 year)
After having done these wizardries, and from the resulting numbers above, the brain made a statement, on-chain of course: "375'000 years of runtime planned", it said. That is a lot of years in the future – but, OK. Thank you, the brain.
Our team considers the above resulting number of years to be enough runtime for this marathon showcase. Thus, the participants immortalized the ecosystem resources.
Token movements
The following rules are put in place during UBC Marathon 2022, and for future marathons organized by UBC Digital, in relation to token movements and how brain energy can be gained / refilled for the team:
We define that the ecosystem allocates 24'000 brain energy per year to the team;

some events, for example eating fruits, also allocate brain energy from the ecosystem to the team; and

time allocations that are agreed upon by the team consume brain energy from the team and are invested in the brain – which effectively makes it smarter.
Smart, smarter, smartest: The Brain
It was now time for the team to actually deliver on some UBC Digital strategy decisions, and for that we allocated another 30 minutes of brain energy, […] and the brain got smarter.
This strategic decision making session would end with the excerpt of our blockchain services at UBC Digital being entirely re-shaped. Did you know that you can book a blockchain consultation with just one click on our website: click here?
Two sessions always come with their third, they say – and so, we allocated yet another 30 minutes of brain energy, […] and the brain got smarter. 
In between the above time allocations, our team obviously needed to refill batteries, and gained some extra brain energy by eating some yummies. The two yummies (special fruits) that were consumed would translate to the team gaining as much as 2.083333 brain energy. 
We ended the day doing more experiments, and feeding the brain with as much as 74.999880 brain energy over the working day, […] and the brain got smarter.
With this successful first marathon conducted entirely on-chain, we decided to schedule a next marathon that would be about automating the above showcase, such that marathons can take place for [at least] the next 375'000 years, or in eternity?
Closing thoughts
First and foremost, the team at UBC Digital enjoyed doing this on-chain marathon, a lot. In fact, it is quite funny when you have to scan a QR Code before you can go … for a private break. It is also funny that, with the above numbers, we would be able to consume brain energy for the next 375'000 years of work to come.
This use case for blockchain is not one to sell – it is merely a playful showcase – but our team had a great time tackling their daily assignments on that day, that matters more to us.
The real value that is showcased with this marathon is that we all had fun using some of the bleeding-edge features of blockchain technology – and we immortalized the fun on-chain.
With the appropriate definition around token distribution and supply, it is possible to tokenize many of our daily routines, be it business operations or social interactions. What would you want to see tokenized next?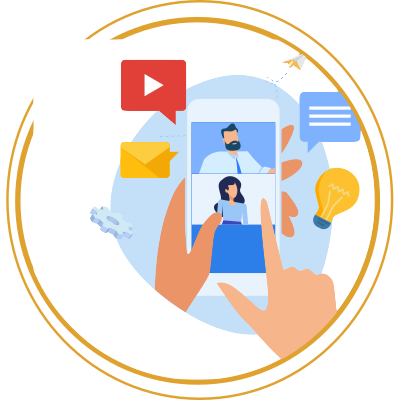 Book a call with a UBC blockchain expert for assistance or guidance on integrating the technology in your business.
We hope that this article was insightful for you and are looking forward to any feedback and messages. Please share your thoughts in the comments section below!
Disclaimer
This website may contain information about financial firms, employees of such firms, and/or their products and services such as real estate, stocks, bonds, and other types of investments. While this website may intend - as the author deem necessary - to provide information on financial matters and investments, such information or references should not be construed or interpreted as investment advice or viewed as an endorsement.