The world is beginning to wake up to blockchain solutions across all sectors and many blockchain use cases are being developed economically, commercially, and in the social sector. Blockchain offers security, accessibility, and credibility to users in all areas. By exploring the myriad of ways in which it is being used today, we may gain insight into the potential it has in the coming years.
Here are 7 different blockchain use cases and how the technology is being applied in real-world examples.
Table of contents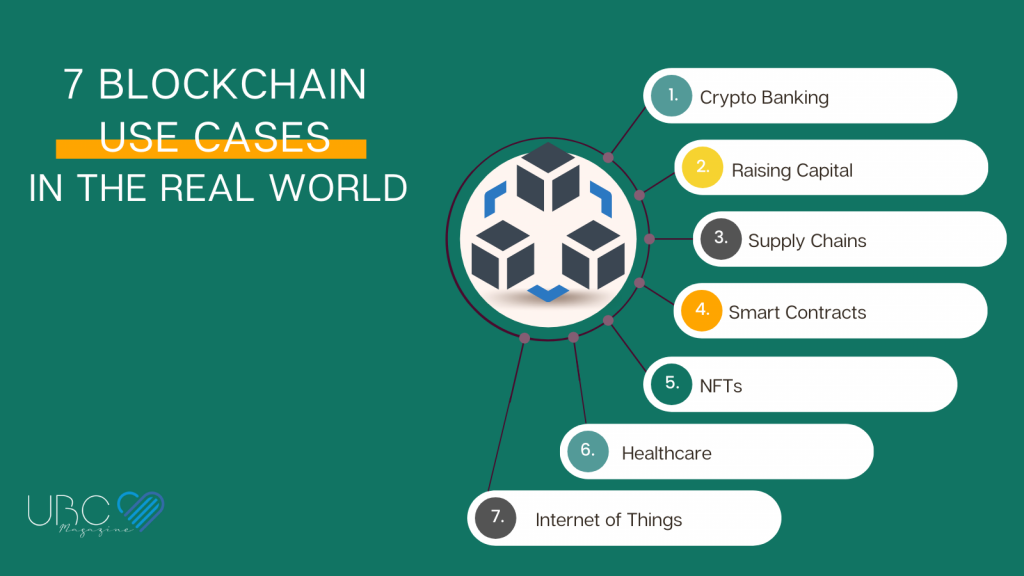 1. Crypto banking
The global economy is slowly edging toward the assimilation of crypto as financial tender. Circle is a financial blockchain paving the way for its use within mainstream transactions. It is a peer-to-peer payments technology that adopts the Stablecoin USDC.
As of 2020, Circle has also been catering to businesses through their partnership with Visa. Its customers can opt for a Visa business credit card with which they can spend their USDC with all Visa-based merchants. Visa-supported businesses themselves can transfer USDC over public blockchains. This is opening a great potential for businesses to benefit from blockchain technology by facilitating payment transactions.
2. Raising capital
Through blockchain, entrepreneurs are now able to raise capital for business ventures through tokenization. Initial Token Offerings (ITOs), Initial Coin Offerings (ICOs), and Secure Token Offerings (STOs) are bought in place of a fiat investment.
The main difference between ITOs and ICOs is that ICOs are similar to crowdfunding whereas token offerings may represent a benefit to the investor such as shares in a business.
STOKR is a blockchain-based investment platform that connects investors with start-ups. Investors use crypto to purchase STOs to then invest in 'ventures'. The entrepreneur will pay an 'onboarding' fee to register their venture with STOKR who will then also take 4% of the capital raised. The platform allows users to showcase their ventures and gain credibility within the market and for investors to build their investment portfolio.
3. Supply chains
The supply chain is the network between a business/company and its suppliers, distributors, and customers. The supply chain includes all the production phases (from creating the product from raw material to manufacturing, packaging, and design), and distribution phases (transportation, warehouses, vendors, and retailers).
Blockchain offers solutions to problems in many of the world's sectors and supply chain management is no exception. Traditional market supply chains are often complex and offer little security for deliverables. When managed by blockchain, however, suppliers are easily able to trace goods through a transparent, secure ledger system from manufacturer to sale.
A good example of a blockchain use case for supply chains is IBM. IBM offer their own supply chain solutions through the use of smart contracts. These smart contracts will only trigger when predefined conditions are met, for example, upon the delivery of goods. The employment of an immutable record within this process means that deals between vendors and suppliers are trustless and do not rely on the integrity of either party.
4. Smart contracts
As already mentioned, smart contracts work using predefined conditions. Smart contracts are programs stored on a blockchain that run when predetermined conditions are met. They work by following simple "if/when…then…" statements that are written into code.
Propy is a real estate management software that automates the closing process on real estate transactions through the use of smart contracts. In 2017, it became the world's first use of smart contracts in real estate when it closed a deal for $60,000.
Cardano has also announced the successful launch of their own smart contract capabilities in the Alonzo Upgrade, which will grant users the ability to run their own smart contracts. The announcement is one of many DeFi developments within the FinTech industry and has ongoing implications for all blockchain-based business solutions.
5. NFTs
NFTs or Non-Fungible Tokens are another tokenized application of blockchain. NFTs have been largely adopted by the online art community as a way to create consistent income from their art. Artists do this by 'tokenizing' their artwork and selling it for cryptocurrency as one-of-a-kind or part of a limited series.
Artists have been taking to various blockchain-based platforms to do this, such as Nember Art. NemberArt allows artists to display a portfolio of their work, to be browsed by art enthusiasts. Platforms such as this are also being adopted by designers and merchandisers. Musicians and sports teams are beginning to sell merchandise or auction off one-of-a-kind works, sometimes being sold for millions of dollars worth of crypto.
6. Healthcare
Blockchain solutions are not only exclusive to business and finance and have found many uses within the medical sector. dHealth is a decentralized healthcare network that was launched in Switzerland amid the pandemic. It offers solutions to medical data storage and transaction needs with its fragmented ecosystem.
The blockchain network has entered a partnership with the Paris Transplant Group and the OrganX Foundation to optimize organ transplant allocation. The blockchain can speed up the process of matching organs from donors with potential recipients, making it more efficient and ultimately increasing patient survival rates.
7. Internet of Things
The Internet of Things (IoT) is an interface technology used in smart products, such as smart TVs or Fridges. As you can imagine, any technology that connects everyday household objects to the internet has the potential to be a great security risk such as smart doorbells or anything with private information. Blockchain is being integrated into IoT to mitigate these risks.
HYPR is a cybersecurity blockchain that manages device authentication by replacing passwords with biometric encryption. Biometric data is stored on nodes and has a significantly lower risk of being shut down by the kind of breaches that cripple centralized storage businesses. While a hacker may also be able to take the biometric data of a single device, these cannot be used in wide attacks as this data is unique to each individual.
The Internet of Things is possibly the most interesting use case, as once it is integrated with our own devices, it has the potential to optimize aspects of our day-to-day lives as well as large sectors of business and society. Its uses go far beyond the areas briefly mentioned here and have the potential to expand any conceivable application of digital tech. Blockchain is already so well established that it is easy to forget that is still a fairly new technology and it seems that we are only scratching the surface.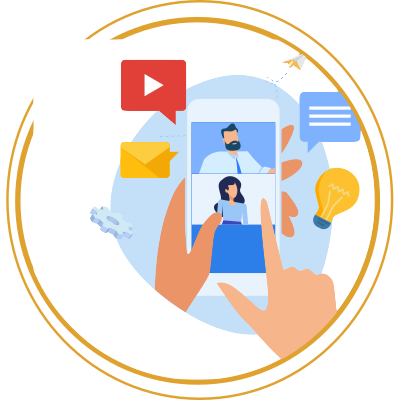 Book a call with a UBC blockchain expert for assistance or guidance on integrating the technology in your business.
We hope that this article was insightful for you and are looking forward to any feedback and messages. Please share your thoughts in the comments section below!
Disclaimer
This website may contain information about financial firms, employees of such firms, and/or their products and services such as real estate, stocks, bonds, and other types of investments. While this website may intend - as the author deem necessary - to provide information on financial matters and investments, such information or references should not be construed or interpreted as investment advice or viewed as an endorsement.