Cryptocurrencies come in a variety of shapes. You're certainly familiar with Bitcoin, which serves as both a payment platform and a store of value, and Ethereum, which also serves as a payment platform and a platform for other projects. Then, there is also a potential for cryptocurrencies to be used in rewards systems. In fact, known as fan tokens, these differ from Bitcoin and Ethereum in that they provide holders with a direct benefit towards membership for football clubs or other benefits when purchasing merchandise of sports clubs.
Table of contents:
What is a fan token?
Fan tokens are digital currencies that give holders access to a variety of fan-related membership benefits such as voting on club decisions, incentives, item designs, and access to one-of-a-kind events.
They can be used to democratize and coordinate events, form club leadership, and more and can be used by sports groups, music fan clubs, and other organizations.
Fan tokens also contribute to the strengthening of the club community by providing another team-branded element of fandom and they are cryptocurrencies that aren't always underpinned by Bitcoin or Ethereum's core value concepts. They are valued based on how much fans value the opportunity to engage in the club and get exclusive rewards.
How can fan tokens be helpful?
As a consequence of storing these tokens, fans become more than just onlookers. A passive fan is changed into an invested fan via a fan token or sports token. Adding to this, in some cases, they can also benefit financially from the team's success.
Fan token holders could potentially have a say in both binding and non-binding decisions made by their clubs or teams. This includes discounts on club items, voting rights in club polls, and even the ability to choose charitable activities.
Take the example of certain social experiences, such as attending a team lunch with your favorite sports personalities – these cannot be purchased with money. Instead, a fan token holder could get invited directly by receiving the cryptocurrency.
Fan tokens are similar to a platinum membership card that includes unique benefits and VIP access. Fans thereby get access rights – without being limited to a singular season – and which doesn't expire. These benefits could give the tokens an extra degree of pride and status.
Down the road, if the team increases the utility of these fan tokens or wins some trophies, the demand for these tokens may increase. Paris Saint-Germain FC is a prime example of this: when Lionel Messi, the five-time Golden Boot winner, joined PSG, the team's fan tokens skyrocketed, benefiting token holders all across the world.
Examples of fan tokens
The sports sector has been rocked by a surge of sports tokens and increased fan interactions through fan tokens. Yet, several teams have seized their initiatives.
Atlético de Madrid was one of the first football clubs to issue fan tokens in January 2020. Later on, teams that go by: FC Barcelona, Valencia CF, AC Milan, Juventus Turin, Manchester City, and AS Roma were among the teams that also created fan tokens.
In basketball, the Cleveland Cavaliers have joined a fan token platform and it goes as far as in India, with the Punjab Kings, Royal Challengers Bangalore, and Kolkata Knight Riders who are among the Indian Premier League franchises that have joined a blockchain-powered sports engagement platform.
In January 22 2021 the Mercado Bitcoin, the major Brazilian cryptocurrency exchange, listed Fan Tokens for Paris Saint-Germain ($PSG), Juventus ($JUV), AS Roma ($ASR) CAI Independiente ($CAI) and Galatasaray ($GAL) at 14:00 CET/ 09:00 BST.

Source: Medium
Gaming, motorsports, and even mixed martial arts (MMA) have all begun distributing their own blockchain-based cryptocurrency fan tokens to their fans and supporters all around the world.
AC Milan's fan token made $6 million in sales on its first day of trading earlier in the year of 2022.

Source: insideworldfootball
Further on, SS Lazio, a Serie A team [in Italy], announced a sponsorship arrangement with Binance earlier in October 2021. Binance is establishing a fan token for the team as part of the agreement. Buyers of these fan tokens then have the ability to vote on club concerns. One of the first votes will determine whether the company's logo appears in navy blue or white on Lazio's home kit.
Other Lazio fan token votes include selecting music to be played during team warmups and a website header graphic. On Sunday, Oct. 24, 2021, the Binance logo appeared in navy blue on Lazio's away uniform during a match against Hellas Verona FC.
Another successful example is that of the KPOP Fan Token ($KPOP), which is a utility token that grants KPOP fans a tokenized share of influence over Korean pop music via social media platforms. The token acts as an access key that further enables users to compete for exclusive incentives, recognition, and other benefits. From May 2021, KPOP fans have been able to purchase KPOP Fan Tokens ($KPOP) on Binance Smart Chain to engage in community events such as concert ticket giveaways, NFTs of well-known KPOP musicians, and a chance to win a trip to Korea funded by the $KPOP Fan community.
Manchester City fan token has partnered with the cryptocurrency company Chiliz. Fans that purchase the $CITY Fan Token gain access to club promos, games, augmented reality elements, and other VIP experiences, as well as vote in polls hosted by the club.

Source: sporttechie
Conclusion
Fan tokens are becoming a part of modern culture. Sports fans can purchase them to communicate more with their favorite teams and become a part of an exclusive community.
Note, that you may have more decisional power over your preferred team(s) if you own fan/sports tokens.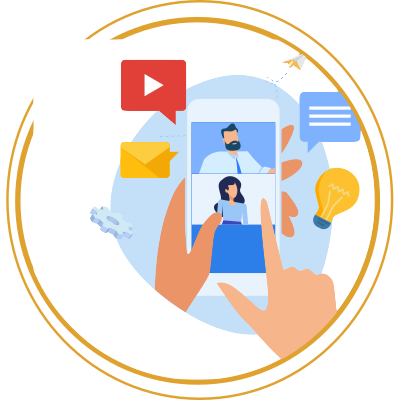 Book a call with a UBC blockchain expert for assistance or guidance on integrating the technology in your business.
We hope that this article was insightful for you and are looking forward to any feedback and messages. Please share your thoughts in the comments section below!
Disclaimer
This website may contain information about financial firms, employees of such firms, and/or their products and services such as real estate, stocks, bonds, and other types of investments. While this website may intend - as the author deem necessary - to provide information on financial matters and investments, such information or references should not be construed or interpreted as investment advice or viewed as an endorsement.