Over the last 50 years, the agriculture industry has undergone significant changes. Farming equipment has grown in size, speed, and productivity as a result of technological advancements, allowing for more efficient harvesting of more land. Seeds, irrigation and fertilisers have all progressed, allowing farmers to enhance their harvesting activities.
Agriculture is in the midst of yet another transformation, with data at its core. Artificial intelligence, analytics, linked sensors and other emerging technologies have the potential to boost yields, enhance water flows and other input efficiencies, and improve sustainability or resilience in crops.
Table of contents:
Data collected from soil
Farmers must understand the quality of their agricultural land as it becomes increasingly contaminated and impoverished. It's here that modern-day technology comes into play, allowing farmers to collect data from the soil and turn it into actionable knowledge.
The capacity of a land and soil to be productive is determined by its long-term viability and availability. Therefore, farmers must know more about the land's historical- and current state in order to comprehend and improve its future productivity. Soil data is gathered and soil maps are created for this purpose, allowing diverse farmers and agriculturists to analyze the soil capacity and move on to a more sustainable agriculture.
Information technology in agriculture
The introduction of information technology has accelerated the agriculture sector's development. The weather forecast reports have been the most significant contribution of information technology. Specifically, it is an aid to farmers offering them notifications for upcoming natural disasters or significant rainfalls.
Information technology permits to collect data and to keep track of market prices, seasonal variations or drifts, also keeping track of local demand for commodities and farming techniques. It has enabled farmers to keep up with the latest farming trends and techniques.
GPS technology in agriculture
The use of GPS to document farms is common in modern agriculture. It's simple to figure out and document a farm's yields, as well as keep track of application rates, using GPS. Farmers can utilize the acquired and recorded data as a reference point when making decisions using such technologies. The yield map can be used to provide a summary of the complete year's activities and is extremely important since it can provide a wide range of information, such as a report of a farmer's fields drainage system.
Crop sensors
Chemical fertiliser and pesticide application remain a big difficulty in agriculture, particularly determining which fertiliser performs best in different settings, when to apply them or how much to apply. Crop sensors can help farmers apply fertilisers and pesticides more effectively. For farmers who cannot afford Nanotechnology or other high-tech, high-cost technological breakthroughs, soil and water sensors offer a cost-effective alternative.
These low-cost sensors measure nitrogen levels, moisture content and other beneficial and essential conditions in the soil and crops. Moreover, it aids farmers in planning and scheduling their crops' water needs.
Precision farming
Precision farming is a novel method of increasing agricultural yields and reducing waste by generating and assessing a match between crop, fertiliser, crop protection applications and local soil conditions using satellite maps and computers. It aids in enhancing productivity, efficiency, and profitability while also preventing crop malnutrition.
Mino chromosol technology
Mini chromosol Technology harnesses the power of chromosomes to improve crop yields. It is a market-leading innovation that has garnered a large number of clients and is rapidly expanding. Scientists can now create features and induce them into the chromosomes of crops with the use of this technology. As a result of this, crops are protected from infections and many farmers can improve their yields.
Nanotechnology in agriculture
Nanotechnology has made remarkable development in agriculture and is now employed for a variety of purposes and it has the potential to make crops healthier than before. This entails a scientific method that must be evaluated solely by biological experts.
In farming, nanoparticles are strewn around the land as is also done with insecticides and fertilizers, at an appropriate interval of time. The particles are released into fields after performing extensive research on the soil and permit to produce of healthier, disease-free crops, better for human consumption.
Thereby, farmers harvest higher-quality crops that are not only good for selling to clients but also beneficial for their health, with the help of skilled professionals with extensive knowledge of nanotechnology and its application in agriculture.
Blockchain in agriculture
Blockchain technology can provide a distributed source of truth of a farm's goods and contracts. As a farmer, you may no longer need to rely on a plethora of software, spreadsheets or pen and paper to keep track of vital information.
In an agricultural value chain, blockchain technology can remove inefficiencies while saving time and resources. There's no denying that blockchain's ability to boost automation and digitization of supply chains makes it a must-have for modern agriculture in the near future.
Conclusion
Mankind has repeatedly demonstrated that there is no road to progress that would exclude the use of information technology. Increased crop output, reduced impact on natural ecosystems, increased workers safety, reduced use of water, fertilizers and pesticides are just a few of the advantages emerging from the use of technologies in agriculture.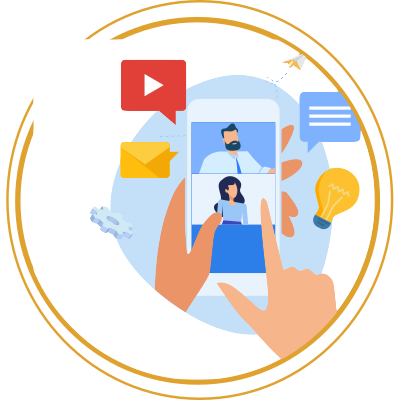 Book a call with a UBC blockchain expert for assistance or guidance on integrating the technology in your business.
We hope that this article was insightful for you and are looking forward to any feedback and messages. Please share your thoughts in the comments section below!
Disclaimer
This website may contain information about financial firms, employees of such firms, and/or their products and services such as real estate, stocks, bonds, and other types of investments. While this website may intend - as the author deem necessary - to provide information on financial matters and investments, such information or references should not be construed or interpreted as investment advice or viewed as an endorsement.