Blockchain technology, one of the most remarkable developments since the advent of the Internet, is the latest technological topic in the financial industry. This technology is expected to be used in various sectors, including healthcare, energy management, the Internet of Things (IoT), and digital governance. (Read more about blockchain use-cases and real-world examples)
On the other hand, Blockchain technology is predicted to have a huge impact on the financial services industry and transform the way banks and insurance firms work.
Table of contents
What is blockchain technology?
Blockchain technology is a decentralized, verifiable digital ledger that records transactions across a public or private peer-to-peer network. Transactions are recorded in blocks in chronological order by the technology, stored in multiple locations. These blocks can only be added to, not modified. As a result, blockchain provides a secure and trustworthy method of recording transactions without a trusted third party. This enables the technology to be employed in many peer-to-peer applications, even when users are unfamiliar with or distrustful of one another.
The data recorded on these nodes are consistent with the data on all other network nodes. In addition, these records are immutable, making data tampering almost impossible. These applications include payments and remittances, real estate trading, energy trading, and securities trading.
The following are 5 uprising blockchain companies
Yellow is a well-known cryptocurrency market maker that offers company seed investment, data analytics, coaching, consulting, and Fintech software solutions. Through its coworking center in Chiang Mai, conferences, events, and entertainment for digital nomads, Yellow is also a lifestyle with a thriving blockchain community.
The Yellow Group is now concentrating its efforts on creating a large-scale distributed liquidity network for exchanges and institutions capable of handling billions of transactions. The Yellow Group's most recent product is a global financial information exchange network that combines all participants' order books, designed for the Web 3.0 Internet of Finance scale and driven by state channel technology.
Yellow.com is an example of a brokerage that uses the new Open-Source Digital Assets Exchange v4 software., which is available to startups and entrepreneurs interested in creating their own trading platform.
Abra is on a mission to build a simple and trustworthy platform that will allow millions of cryptocurrency owners to maximize the value of their holdings. They provide a simple program that will enable users to earn interest, buy, sell, and trade cryptocurrencies all in one spot. Their goal is to create an open, global financial system accessible to all.
Coinfirm's risk management aids in the long-term scaling of cryptocurrencies and blockchain systems. Coinfirm has become a worldwide known RegTech firm since its founding in early 2016 by technology, seasoned compliance, and finance professionals. Coinfirm, which has offices in the United Kingdom, Poland, the United States, Canada, and Japan, promotes financial inclusion, combats human trafficking, and protects the global digital economy.
Market leaders use the company's solutions, including crypto exchanges like Binance, protocols like XRP, and important financial institutions. Individual users can benefit from the resources provided by Coinfim. in addition to working with our corporate clients.
Argo Blockchain is a cryptocurrency company situated in London, England, created in 2017 following the bitcoin boom. The company's main purpose was to ensure that mining became legal. The company owns approximately 21,000 mining machines in the United States and Canada. Their objective is to manage an efficient mining infrastructure that enables the world's top blockchain networks' continuous development, innovation, and functionality.
Elliptic, founded in 2013, was the first company to utilize blockchain analytics to prevent financial crime—world Leading Provider of Cryptographic Compliance Solutions. Elliptic's founders originally became involved with crypto assets in 2011, when they saw the technology's potential to bring unprecedented innovation and competition to financial services.
Conclusion
Finally, blockchain systems are becoming more efficient than traditional banking systems because they eliminate third-party mediation and the need for paperwork to complete a transaction. Parties do not need to keep many papers because only one ledger, results in substantially easier transactions. In the next section, we'll go over this in further detail.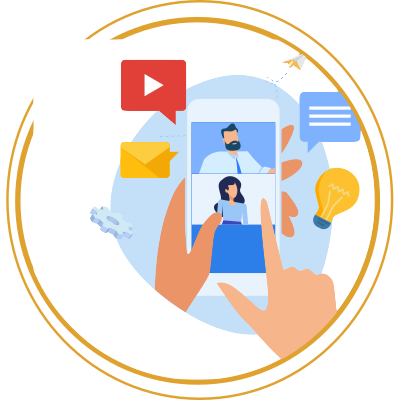 Book a call with a UBC blockchain expert for assistance or guidance on integrating the technology in your business.
We hope that this article was insightful for you and are looking forward to any feedback and messages. Please share your thoughts in the comments section below!
Disclaimer
This website may contain information about financial firms, employees of such firms, and/or their products and services such as real estate, stocks, bonds, and other types of investments. While this website may intend - as the author deem necessary - to provide information on financial matters and investments, such information or references should not be construed or interpreted as investment advice or viewed as an endorsement.