As the digital age continues to spark changes in the global market, investors would be wise to keep abreast of the latest technological developments and how to leverage them. Blockchain technology in particular is one of the most influential new technologies. It is being implemented across the globe, and it's got a huge role to play in investment.
Since its inception in 2009, blockchain's security and transparency have cemented its role in the digital world. A previous article on 'Blockchain Use Cases and Real World Examples' talks about the technology's many uses and functions, including its role in raising capital and banking. Today, we'll go into more depth and discuss blockchain's role in investing.
Table of contents
1. Trading costs should fall
The blockchain technology manages transactions, as well as the information in it, by securing them instantaneously. In a guide, Blockchain Council summarizes how 'Blockchain in Transaction Management' works.
With this technology, there is less third-party involvement. There are fewer people involved for the transaction to proceed, therefore there is less compensation paid out. The result of this is lower costs for the transaction, as well as extremely fast and efficient transaction time.
2. Better transparency
In every transaction, data is transferred from one point to another. While the data is being transferred, possible security breaches like hacks or leaks are always possible.
A report by U.S. News notes that blockchain is improving transparency in financial services. Since the blockchain has multiple copies of all transactions, it helps make investing more secure and transparent, thus reducing risk.
3. Tracking digital use
Blockchain technology can also be used when making payments and money transfers. The blockchain creates a digital pathway that tracks transactions and makes everything easily traceable. Bloomberg Businessweek notes that the blocks storing digital information are effectively immutable and cannot be changed, making data on the blockchain secure and verifiable.
This limits the opportunities for hackers and scammers since everything is recorded and can be traced. Investors can trust that the transactions are secure and all the data between all parties are safe.
4. Spread betting
Another avenue investors can investigate is investing in cryptocurrency-specific stocks that serve as a pure-play for blockchain investments. For example, investors interested in spread betting can use financial derivatives to speculate on the price movement of a cryptocurrency, such as bitcoin.
FXCM explains that in the spread betting process, the bitcoin itself is never purchased nor sold. Investors merely place a bet using a derivative contract where they state their anticipated position of the cryptocurrency. Trends can then be studied for better, more informed investments.
5. 24/7 worldwide trading
Since blockchain technology exists worldwide, it can enable global trading transactions to take place twenty-four hours a day, seven days a week. This means stock markets across the world never have to close.
Reuters reports that crypto trading continues even on weekends, and indeed many big price shifts can happen during typically 'off' days for trading. Another benefit is that investments can now easily be handled via quick margin calls and securities collateral transfers can be accomplished within seconds.
With blockchain technology, we can now enjoy lower trading costs, better transparency, and a 24/7 global trading system. Thanks to this revolutionary tech, the global market has a much safer, faster, and more efficient way of investing.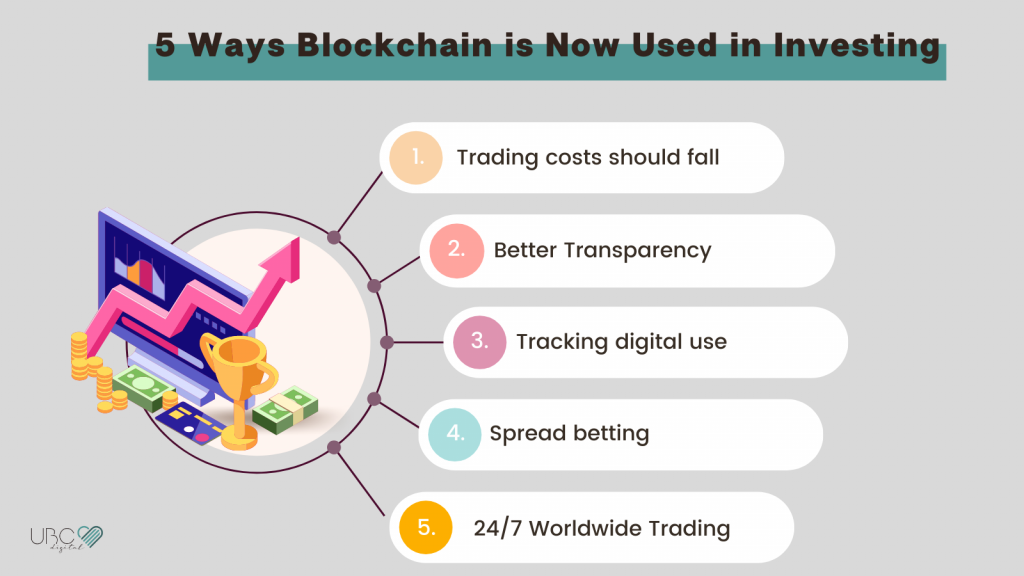 How can blockchain be used in investing?
To sum up, blockchain technology has the potential to change how people do business in virtually any field. Considering Investing as a point of interest in this article, we have mentioned 5 ways that blockchain can be used to optimize investment operations.
Let us know if you are thinking to integrate blockchain into your own business. Our team will make sure to reply to your comments and give you some tips about where you can start.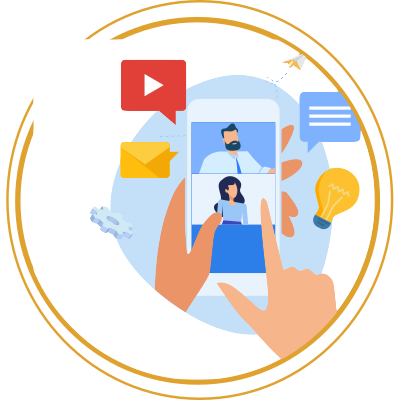 Book a call with a UBC blockchain expert for assistance or guidance on integrating the technology in your business.
We hope that this article was insightful for you and are looking forward to any feedback and messages. Please share your thoughts in the comments section below!
Disclaimer
This website may contain information about financial firms, employees of such firms, and/or their products and services such as real estate, stocks, bonds, and other types of investments. While this website may intend - as the author deem necessary - to provide information on financial matters and investments, such information or references should not be construed or interpreted as investment advice or viewed as an endorsement.